Janet Askren Brown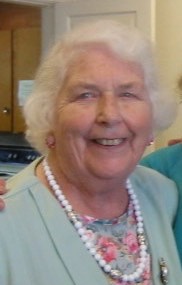 I remember my mother especially during January, the month of her birth. She was a teacher both in the classroom and in her life example. Three qualities stand out to me, and I call them the Three R's.
Resourceful: 
            You could go anywhere on a Seattle city bus. Mom took us on the #2 downtown. Sometimes, we traveled to the end of the line—Madrona Park, a nice place to swim in Lake Washington. The #18 took us all the way to West Seattle and Lincoln Park with its outdoor saltwater pool. Walking to the Fremont library only took half an hour from our little rented home on Dravus Street. We attended outdoor concerts of Gilbert and Sullivan in Seward Park. We took the Bainbridge ferry to Winslow.
            Mom stretched the budget (she was a single mom on a teacher's salary) by serving nutritious liver, chipped beef on toast and cheese souffle. She taught us to love vegetables (asparagus, spinach and beets), but we never ate macaroni, spaghetti or rolls. She watched her carbs!
            She taught us thrift by joining the Christmas club each year, which meant saving a little each month till November. She always gave her tithe at church, too.
Reliable:
            You could count on Mom to do what she said, and she expected the same of you. I learned from her—if you promise something, be quick to fulfill it.
            She took on many volunteer duties: teaching Sunday school, leading Bible studies, phone calling for various women's groups and teaching English to international students and immigrant ladies from all over the world.
            She bought a home on her teacher's salary.         
            Her Christmas card list grew every year. She became known and loved for the hundreds of thank-you notes she sent over the years.
Ready for Anything:
            Mom was forever trying new things. She sent for gadgets that would improve her life or ours. She kept learning all her life. She tried to keep up with current events.
            She liked to travel, when she could afford it. Church picnics or overnight retreats or a family wedding of one of the international students she taught after retirement. She got to visit grandson Brian in Maine and see the fall leaves. She also saw Philadelphia and Lancaster County.
            We loved her openness to people, her kind words and thoughtful gestures. She noticed what was important to each person—and tried to cheer them. She loved to chat and play games. She liked dogs and pink roses. 
            I miss her.