Let me tell you about our wonderful daughter-in-law, Kate.   Our son Brian and Kate married in 2016.  They live near Philadelphia where Brian is the Curator of the Native American Collection of the American Philosophical Society, no apoligy for the shameless brag about him too ;-).  Kate has kept her maiden name, Garchinsky, as she is a published illustrator.  You know her as the creator of the covers of my novels.  Her web site is penguinart.com.
A theme running through this Blog is "Story".  How we love the stories she brings to life with her illustrations.
Joining forces with renown author Laurence Pringle she has illustrated the first two volumes of his "Secret Life of . . . " series.
The Secret Life of the Red Fox 
2018 Outstanding Sicence Trade Book by the National Science Teacher's Association
Sample of Amazon reviews: 
". . . narrative non-fiction at its best . . . perfectly matched with Ms. Garchinsky's beautiful pastel illustrations. . . ."
". . . beautiful realistic illustrations.  Each page is worthy of being framed."
"Kate Garchinsky's light-filled, movement-filled drawings joyfully illuminate the pages."
The Secret Life of the Little Brown Bat
Sample Amazon Reviews:
"Laurence Pringle is a well recognized name in the genre of narrative nonfiction. . . the illustrations throughout the book support details in the text . . . a lovely spread shows Otis as he 'zigs and zags, flutters and dives, hovers and swoops, dips and swerves."
Kate has also illustrated Belle's Journey: An Osprey Takes Flight, by Rob Bierregaard
Sample Amazon Reviews:
"This is a story of an osprey's first migration from Martha's Vineyard to Brazil and back, brought to life in prose and illustrations . . . (that) it must be said, are absolutely stunning."
"The youthful and whimsical illustrations by Kate Garchinsky perfectly match the tone and drama that the author has built for the reader. . . ."
". . . the illustrator who's adventuresome and stunning paintings and drawings bring the whole kit and kaboodle to life! . . .  Rob and Kate . . . have set a very high bar. . . an 'heirloom' children's book to savor and then save…."
". . . Dr. Bierregaard writes in an entertaining style. . . the illustrations are excellent and are equally fascinating."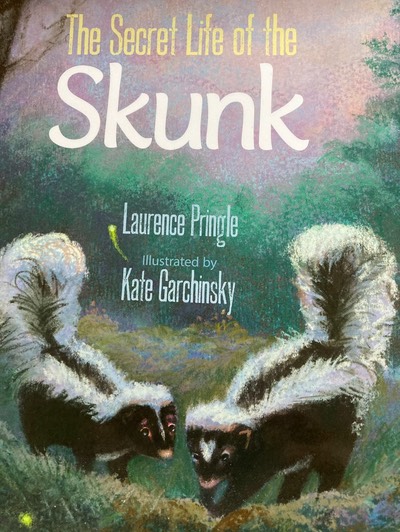 UP DATE:   More by Lawrence Pringle (Author), 
                                      and Kate Garchinsky (Illustrator)
1999 Release:
                            The Secret Life of the Skunk  
The third in the Secret Life series finds a mother skunk and her five kits.  Excellent reading for young readers discovering how the kits discover their world and survive the threat of predators.  Full of true science information about how these interesting creatures live and Kate's beautiful illustrations draw the reader into the secret world.
Coming out in 2020:   The Secret Life of the Sloth  
I'm looking forward to the release soon (writing in July 2020).  Not really sure what Sloths do all day.  We will see!