My niece, Miriam, says this is my favorite saying. Home makes me think of food. And I always have in my mind how I want something to taste. Over the years I've found recipes that meet the criteria.
Some of them are "secret family recipes." This is a code phrase for recipes I've found on boxes or jars of name brand products. And they are delicious recipes. My pecan pie recipe is one of those, and for years I hid it from Miriam that it appeared on the corn syrup bottle.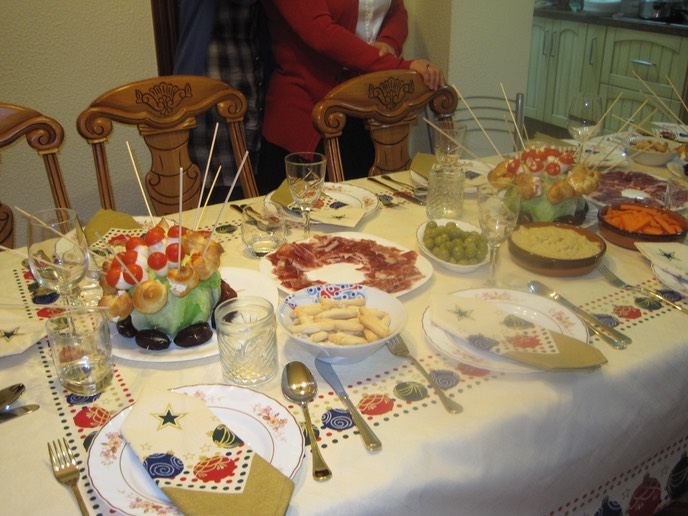 Home is the place where hospitality prevails. So do full stomachs and a sense of abundance. When I first saw Babette's Feast many years ago, that foreign film depicting the pinched existence of a Danish religious community swept me away. How could one meal, prepared by a servant (formerly a Parisian chef) bring healing to a religious community torn by long-standing strife? But, that is what happened. The woman spent all her money won in the lottery on a very special meal—abundance and the best of ingredients—and it led to laughter and healing. It felt sacramental.
Above:  appetizer course in a Spanish home on Noche Buena, 24 Dec 2009.  A typical Spanish feast, we ate from 10 p.m. to 1:30 a.m.   
Below:  Host Norberto offering samples to family, and guests including Beryl.  [Photos by Robert Carpenter]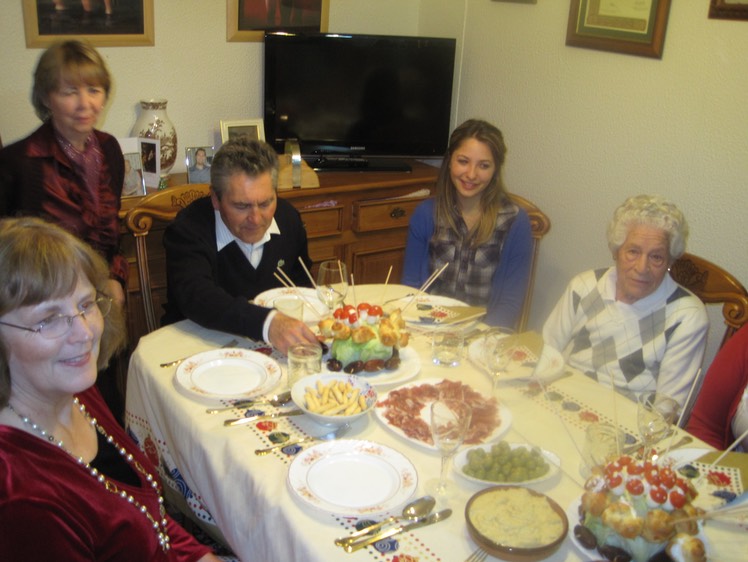 Our friend Del was a real-life example of hospitality. He believed in abundance. "Don't skimp on the snacks, put them all out! Load the bowls with candy. Pile the brownies high." When he catered a meal, he made the best, too. He made beef tenderloin as if the president was coming to dinner. And the best Caesar salad. His dressing recipe was a true secret family recipe. At his funeral, I was touched by the number of people who cherished his hospitality, generously bestowed.
What's for dinner? A meal made with love will do just fine.