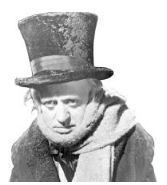 We attended a performance at Taproot Theatre* entitled The Trial of Ebenezer Scrooge.           
        The Charles Dickens' novel ends, as we all know, with the transformation of old Scrooge into a person who loves Christmas and has vowed to remember to demonstrate the spirit of Christmas all the year through.
        Have you ever wondered how that worked out?  In this play by Mark Brown we find Ebenezer suing Jacob Marley and the Ghosts of Christmas Past, Present and Future for trespass and kidnapping!  Has he reverted to his old self?  You should find out by seeing this play or reading it anyway or anywhere you can find it.
       That's the thing about stories:  they never end.  After the saddest or the happiest ending the lives of the characters go on just as the playwright here has imagined.  So too our lives continue after crushing blows or amazing successes.  The question is:  which way will the story turn?
       How I would love to tell you the surprising outcome of this play.  If I did then you would not experience the tension or the laughter as it happens.  I think it is good that we don't know the final outcome of our life's story.  We watch it unfold with plot twists and unexpected events.  Your story is playing on the main stage right now.  The curtain is rising.
* taproottheatre.org