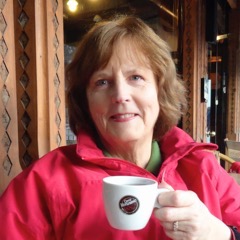 About the Author
Beryl Carpenter has a deep love for all things Spanish. She holds a bachelor's degree in Spanish and a master's degree in TESOL - Teaching English to Speakers of Other Languages.  She has traveled to Spain many times to explore its castles, cathedrals and cuisine. She studied at the University of Salamanca and lived in Andalucia [southern Spain] for a year.  Beryl now resides with her husband in Western Washington.
In Far From a Pleasant Land, Ms. Carpenter's first book, Sara Elena de Torres yearns for love and a home. Instead, she steps into the tumultuous events of Spain in 1492. As a young Jewish woman, she must make the difficult choice to renounce her faith and heritage or face expulsion as Ferdinand and Isabella have decreed. 
Follow Sara Elena's further adventures in 2017 in a third book, When Doves Laughed, being visioned in the author's mind right now.

   "Si tomare las alas del alba y habitare en el extremo del mar, aun allí me guiará tu mano." Salmos 139: 9-10 (RV 1960)
    "If I rise on the wings of the dawn, if I settle on the far side of the sea, even there your hand will guide me." Psalm 139: 9-10 (NIV).  
         About the Story             
Sara Elena flees Spain in 1492, narrowly avoiding capture by her pursuer, Don Antonio Morales, evil deputy of the Inquisition. On the eve of her departure, she pledges her love to Juan, the man she has come to love. However, she and Juan must travel different paths and endure dangerous separation for a time. 
Juan travels west with Columbus on the voyage of discovery. Will loneliness subdue him? Will he fall victim to temptation? Sara sails eastward seeking a welcome and a home. But which country will receive her, one of hundreds of Jews exiled by Isabella and Ferdinand?
Along the way she makes friends. Evil follows her as Sara builds a new life in a foreign country. Just when joy is about to overtake her, a cruel violence and heart-breaking news threaten to overwhelm her. Will her dream of a home vanish like a wisp of smoke?